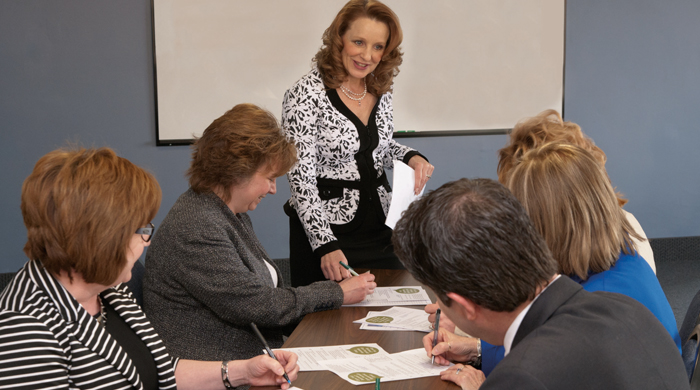 Do you feel as if the results you dream of for your business are elusive, seemingly just beyond your reach?
Are you frustrated with the feeling you are stuck in an endless cycle of "stuff" that keeps you from focusing on the real work in your business?
At the end of the day, do you recognize you've been busy but not necessarily productive?
If so, Laura can provide you with the unconventional insight you need to understand and engage your natural talents, shift your thinking, and refocus your energy to perform at peak levels, allowing you to achieve your personal and business goals.
Tap into the advanced thinking strategies used by the top 1% of entrepreneurs and business owners to unleash your creativity and unlock your potential. This will require you to make significant changes in your daily habits, but your results will speak for themselves.
Review the following information on Coaching and Mentoring; Laura will develop a plan to provide customized service to meet your individual needs.
Do any of these statements apply to you?
I'm stuck!
My business isn't growing the way I hoped it would and I don't know what to do differently.
I need a change in my life. I just don't know what it should be or where to start.
I need a change in my life. I know what I need to do; I just can't seem to get moving.
I'm facing an exciting opportunity and want to step into it carefully, so I don't goof it up.
If you answered "Yes" to even one of those statements, you are in the right place! Laura is an expert at getting people "unstuck"! Your next step is to work with a skilled coach. A naturally intuitive pathfinder, Laura is an exceptional coach.
Based on personal experience, Laura can attest to the fact that personal and entrepreneurial growth do not just happen! One must take ownership and play an active role in designing and creating one's desired life.
A small business owner herself, and having worked closely with numerous entrepreneurs and small business owners, as well as investing in coaching and mentoring in this arena to grow herself and her business, Laura has the experience to help you understand what your most significant challenge truly is and how to overcome it. Laura is an intuitive pathfinder, a powerful guide who will provide unconventional insight to unlock your creativity and potential, and will accompany you every step of the way on your journey.
[ppmaccordion][ppmtoggle title="What is Coaching?"]
Coaching is a unique growth process. The only goal is for you to achieve whatever you are striving to accomplish.
Laura creates a safe, encouraging, empowering, confidential environment in which to explore your power and potential.
Coaching is focused on where you are today and how to get you to where you want to be tomorrow, and beyond.
Coaching is not therapy or counseling.
The truth is, you have the answers and resources you need, but haven't unlocked them. Working with a skilled coach will help you do just that.
According to the 2009 ICF Global Coaching Client Study, companies that use or have used professional coaching for business reasons have seen a median return on investment of seven times their initial investment. Individual clients reported a median return on investment of 3.44 times their investment.
Working with Laura
Laura's on a journey and while she would be delighted if you were to join her, she will warn you, however, this journey is not for everyone!
If you truly desire getting to the bottom of what's keeping you from reaching your potential and enjoying success in your business — at whatever level you define as success — Laura is the kind of coach you will enjoy working with. She takes a straightforward approach, digging deep into the foundational causes of what's holding you back. Working with Laura, you will discover your self-limiting beliefs, self-imposed constraints, fears, doubts, and insecurities, learn to put them in their rightful place, and move forward into the success you desire.
If this describes you, and you're ready to unleash your creativity and unlock your potential, connect with Laura now!
[/ppmtoggle] [ppmtoggle title="Mentoring"]
Do you need to improve your communication, leadership, or employee engagement skills? If so, why not benefit from the experience of someone who has gone before, accelerating your growth process? With 20+ years experience as a professional communicator, and 10+ years working in leadership development, personal growth, communication, team building, and employee engagement, Laura is uniquely qualified to help you improve your skills, open your eyes to a different way of viewing situations, and open your mind to new ways of thinking about the conditions and circumstances surrounding your life.
Mentoring may be a one-time event, or take place over a series of weeks or months. Laura will develop the best approach for you, based on your specific needs.
[/ppmtoggle] [ppmtoggle title="Mastermind Groups"]
Experience the power of the Mastermind through a facilitated, in-depth study that will afford you the opportunity to join forces with a diverse group of like-minded individuals also focused on taking results in every area of their lives to a new level. Having the support and ideas from other focused and driven people allows us to see things differently and gain a new perspective on goals and action plans. Mastermind Groups can be formed to focus on any given topic, including those listed below, and many more!
Masterminding: A group of brains coordinated (or connected) in a spirit of harmony, will provide more thought-energy than a single brain, just as a group of electric batteries will provide more energy than a single battery. ~ 
Napoleon Hill
If you're interested in personal growth — and note that the top 1% of successful entrepreneurs and business owners focus on growing themselves first and their business second — but are not certain you're ready for a deep dive or one-on-one coaching, joining a Mastermind Group is a great first step.
The 15 Invaluable Laws of Growth: Growth doesn't just happen! To reach your potential, you must be intentional about understanding where you are and where you want to go. If you're ready learn how to build up your sense of purpose and become more successful in every area of your life, this is the program for you.
Put Your Dream to the Test: Your dream has power. It can inspire you. It can empower you. But will it reward you? Learn how to crystallize your vision and galvanize your commitment.
Sometimes You Win, Sometimes You Learn: Life's greatest lessons are learned from our losses. Successful people understand that there is wisdom to be gained when things don't go their way, and they proactively learn from their stumbles, carrying those lessons forward to perform at higher levels in the future.[/ppmtoggle] [ppmtoggle title="Entrepreneurial StrengthsFinder"]
Management is about human beings. Its task is to make people capable of joint performance, to make their strengths effective and their weaknesses irrelevant. ~ Peter Drucker
Laura believes in developing strengths-based individuals and organizations. To that end, she is Gallup-Certified in coaching individuals, managers, and teams using the Clifton StrengthsFinder tool.

FACTS:
Managers who understand, appreciate, and invest in team members' strengths, enjoy a team that is more productive and engaged.
Teams that focus on strengths every day have 12.5% greater productivity.*
People who focus on their strengths are 6 TIMES more likely to be engaged in their jobs.*
When managers influence and inspire engagement, their jobs become easier and their teams are more productive.
Workgroups with high employee engagement levels experience 22% higher profitability and 21% higher productivity.
Teams with high employee engagement levels experience 37% lower absenteeism and 10% higher customer ratings.
If you desire greater self-awareness so you can work in the flow of your strengths zone more frequently, or want to build a team aligned with these statistics, Laura has a Strengths-based approach of working with you and your team to make a difference in the future of your organization.
[/ppmtoggle][/ppmaccordion]